About Us
Privately held and based in Toronto, Canada, Illuminark is a new breed of full service e-Learning and Marketing provider dedicated to transforming and empowering individuals and organizations. We adopt a bespoke approach to our business in that everything we do is built in partnership with our Clients.
Illuminark was founded in 2002 during the early days of e-Learning. We grew out of kismet, kinship and a passion to grow a company we could be proud of – a company in the business of investing in highly inventive, creative people who have a passion for solving problems. A company of good people doing good work, with a dedication to doing it a little bit better everyday. Today we have the pleasure of working with clients from around the world.
We are the partner of choice for forward thinking organizations who measure the success of their online training not only by the money they save supporting their traditional learning programs with an online component but as benefit strategic initiative as well. Together we help companies and organizations like yours outperform in the marketplace and drive your success by investing in your biggest competitive advantage and most mission critical asset – your people.
Today the most successful organizations are not the ones that started with the most physical or financial assets. No, the most successful organizations are those that focus on nurturing their intellectual capital through building a solid business culture. 100% of our time is spent helping organizations like yours with their learning initiatives and communications needs. Let us show you how you can incorporate Illuminark's solutions to increase your learning ROI.
What We Do
Strategy, Execution, Results – our pillars. We work with you to fully understand your business model, and leverage that understanding to create a full service, bespoke e-Learning and Marketing initiative that goes above and beyond the goal of basic knowledge transfer.
We dedicate a team to each one of our Clients in order to perform a needs-analysis for each organization aimed squarely at finding opportunities to add value to your organization. Our team then seeks out the ideal technology solution for each and every one of your business needs. We don't rely only on pre-packaged systems, we're in the business of providing tailored solutions adapted to each project for various Client-organizations either through development or strategic partnership. This guarantees a limitless choice of possibilities. The fact is Illuminark adapts to organizations and not the other way around.
We support you every step of the way:
Helping you craft your training and communication strategy.
Implementing the right tools for the job – innovative, interactive, flexible and effective training tools that suit your needs.
Integrating instructional design, methodology, and premium programming, Illuminark develops courses that match the needs and realities specific to each of our client's business models and financial situations.
Support every initiative with a range of online services to drive user adoption: Digital Brand Care, Marketing Analytics, e-Mail Marketing and Social Media Communications.
We are in the business of making our Clients happy. Integral to the success of any project is having the metrics in place to measure that success in the first place.
Our Services
We provide solutions to the problems that keep you up at night. Four core competencies: Consulting Services, Course Development, Learning Management System Implementation, Marketing Support Services.
Illuminark is first and foremost a consulting firm focused entirely on growing your organization, and we measure our success by yours. Let us put our expertise, technical agility, and old-fashioned hard earned wisdom to work for you.
Illuminark maintains a diverse staff with varied competencies: Strategic Planning, e-Learning Implementation, Infrastructure Development, Instructional Design, Web Development, Online Marketing – and that's just to start. We believe that exceptional results require an equally exceptional team of creative and skilled individuals working from within an ingrained culture of partnership, not outsourced to online armies wielding cookie cutter solutions.
Your organization is unique and you deserve a unique solution. We've always strived to make sure that the work we do is something we can be proud of, and so far we've made a lot of friends doing so.
Illuminark's Instructional Designers solve the training challenges that are keeping your Learning Facilitators awake at night. When we work with Clients on custom courseware we actively collaborate with you every step of the way to ensure that together we find the best way to achieve your business goals and your learners' needs. You set the objectives – health and safety training, regulatory compliance, market specific simulations, etc. – and Illuminark responds by creating and deploying a program that achieves those objectives while exceeding your expectations and staying within budget.
Our custom courses can be separated into levels of functionality or interactivity, which determine the budgetary requirements for custom course development projects. This proven experience and proprietary e-Learning software enables Illuminark to save our clients an average of 30% over the competition across all levels of functionality.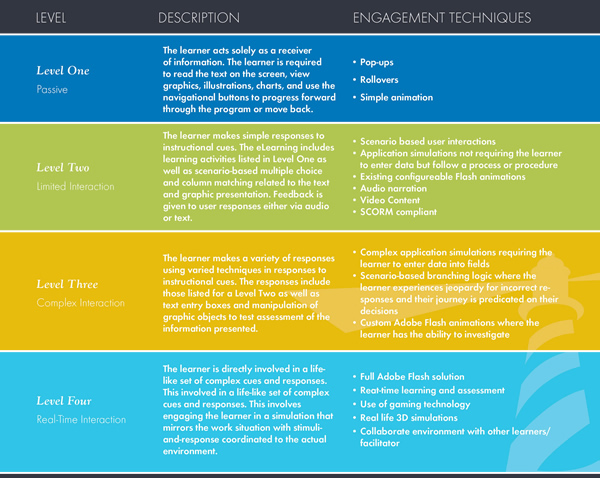 Development Process: With many years of experience, Illuminark has perfected a proven process of custom courseware creation. This 5 phase process provides a tiered deliverable that can be reviewed by client representatives at each step. The open communication fostered by this approach ensures project success and customer satisfaction.
[1] Alignment: The Alignment Phase allows us to sit down and discuss your overall strategy for the course, any legal or industry requirements you need to meet, and determine all of the relevant learning objectives needing to be addressed.
[2] Discovery: The Discovery Phase gathers all of the course materials we'll need to meet the objectives outlined in Phase 1.
[3] Design: The Design Phase begins with a conceptual design to achieve the overall theme for the course, and progresses to multiple stages of Storyboards that are used to fully communicate the overall design and layout of the course to the Client before development begins. This collaborative process ensures that our Clients and their SME's are always directly involved in the process.
[4] Development: The approved Storyboard from the Design Stage is used for development of the courseware. We build in a series of previews to gather Client feedback on any possible revisions necessary before we reach the mutual goal of the best course possible.
[5] Deployment: Illuminark works with our Clients to integrate the courseware into the LMS, whether is Illuminark's or any third-party provider.
Learning Management System Implementation
A Learning Management System (LMS) is a software application for the administration, documentation, tracking and reporting of training programs, classroom and online events, e-Learning programs and training content.
Our experts will work with you to evaluate your LMS needs and help you choose an appropriate solution, whether is Open-Source or Commercial based.
Whatever your unique situation calls for, we've got you covered. We'll manage its deployment, hosting and maintain it, or integrate it into your existing website.
It's one thing to help our Clients by providing them with the training tools to meet their learning objectives, but one thing that sets us apart and reinforces our partnering mindset is how we work with our Clients to help market these new tools to their user base or potential customers. We help drive user adoption and engagement from the inside out with great success.
Digital Brand Care: Improving online presence is easy, with our productivity-oriented service delivery model: Applications and Content Services, Landing Pages, Branded Content Development, Web Applications, Promotional Websites, Mobile Applications.
Marketing Analytics: Valuable insights help you invest more accurately: Traffic Analytics, Conversion Funnels, KPI Analysis, Search Engine Analytics, Campaign management and reporting, Ad-Hoc Analysis.
e-Mail Marketing: We help you build long lasting relationships with your audience: Creative Development, Integration, Deployment and Distribution, Reporting and Optimization.
Social Media Communications: We listen first; that's the key to deliver relevant messages to your audience: Social Media Management, Influence Campaign Management, Community Building, "Buzz" Monitoring, Optimized "Blog" Development.
Our Clients
We believe good quality, great service and competitive pricing are no longer differentiators in today's market. They are expectations. At Illuminark we join our development expertise with a genuine respect and admiration of our Clients, putting all of our know-how into the service of each organization while continuing our commitment to give unparalleled support.
United Food and Commercial Workers Canada (UFCW Canada)
The United Food and Commercial Workers International Union (UFCW) is a labor union representing approximately 1.3 million workers in the United States and Canada in many industries, including agriculture, health care, meatpacking, poultry and food processing, manufacturing, textile, chemical trades, and retail food.
With more than 250,000 members, represented by 47 UFCW Canada Local Unions, UFCW is Canada's largest private sector union and by far the largest union in the private sector retail and service industries.
Testimonial
"We have been working with Illuminark for the past seven years on our E-Learning initiative. When we first started working together we had just taken our first steps on E-Learning.
Thanks to Illuminark's E-Learning's support we have since increased our annual registrations over 50 times. We currently offer over 100 E-Learning courses that have proven to be very successful and of great value to our members. As our organization grows we are constantly looking at Illuminark as our partner to help us service such growth and we look forward to continuing our track record of success with Illuminark.
Illuminark has been an invaluable resource for us, and they have been dedicated partners in our E-Learning and Promotional initiatives. We could not have achieved the levels of success we've experienced without them, and we would be hard pressed to find another vendor that is as dedicated and invested in our success as Illuminark."
Wayne Hanley
President – United Food and Commercial Workers
Ontario Nurses' Association (ONA)
Founded in 1973, the Ontario Nurses' Association (ONA) is the trade union that represents 57,000 registered nurses and allied health professionals working throughout Ontario, from a number of sectors including: Hospitals, Community Health, Long-Term Care, Public Health, Clinics, Industry.
The Ontario Nurses' Association (ONA) is a proactive union committed to improving the economic welfare and quality of work-life for our members, to enable them to provide high-quality health care.
Testimonial
"ONA piloted its first e-Learning solution six months ago. We are so happy with the results and possibilities that web based learning opportunities will provide for our members and staff that we are expanding into a full e-learning solution. With additional promotional support from Illuminark, ONA has developed a multi year marketing strategy to promote the uptake of ONA's e-learning opportunities.
At our latest event, the ONA Biennial Convention, Illuminark and ONA planned and jointly delivered an e-Learning signup promotion resulting in a significant increase in the rate of signups. With Illuminark we are able to make education more accessible to our 55,000 members across the province, delivery really effective and engaging programs, and we are exploring how to leverage web based education for staff skills enhancement. It is the full support and guidance by Illuminark that makes our programs the huge success they have become within such a short period."
Leslie Bell
CEO – Ontario Nurses' Association
Contact Us
Feel free to contact us or drop us a line:
Illuminark Inc.
543a Parliament St.
M4X 1P7, Toronto, ON
Tel: 647-260-4488
Toll Free: 1-855-260-4488
Email: info@illuminark.com